KDC Lake Hopatcong Pickerel/Walleye Weekend Contest
held July 12-13,2003
There were 37 entries in the contest
Pickerel


1st Place $185.00 3lb.10oz. 24" Jeff Brandon
2nd Place $111.00 3lb.10oz. 23" Tyler Maxwell
3rd Place $74.00 3lb.7oz. 25" John Fernandez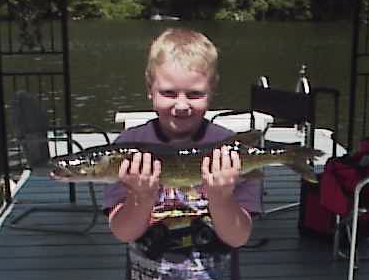 The now famous Tyler Maxwell with his 2nd place catch.
Good Job Tyler!
Walleye


1st Place $185.00 6lb.1oz. 25 ½" Charlie McBride
2nd Place $111.00 5lb.11oz. 24" John Fernandez
3rd Place $74.00 5lb.7oz. 24 ½" John Rogalo (Tie broken by earlier weigh-in time)
The 4th thru 6th place winners receive $20 Gift Certificates from Pavinci's
4th Place 5lb.7oz. 24 ½" Chris Glory
5th Place 5lb.2oz. 23 1/2" Fred Nitek
6th Place 4lb.15oz. 24" Alex Dominquez
Thanks to all that entered and
Congratulations to the winners!