KDC Lake Hopatcong Pickerel/Walleye Weekend Contest
held September 11-12, 2004
There were 34 entries in the contest
Pickerel


1st Place $204.00 3lb.15oz. 25-1/2" Pete Rathjens
2nd Place $123.00 3lb.13oz. 25-1/2" Paul Avenius
3rd Place $82.00 2lb.13oz. 23-1/2" John Fernandez
The 4th thru 6th place winners receive $20 Gift Certificates
from Johnny's Marina and Bait, Lake's End Marina, or Dow's Boat Rental
4th Place 2lb.12oz. Mike Fagan
5th Place 1lb.15oz. John Swenty
6th Place 1lb.6oz. Amy Fernandez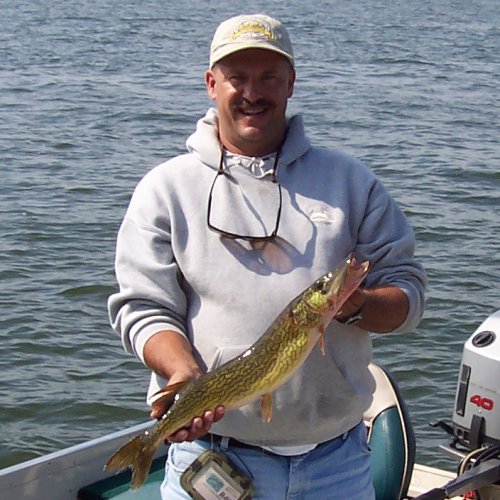 Pete Rathjens 1st place catch.
Walleye


1st Place $204 4lb.9oz.; 23-3/4 inches Bill Haase
2nd Place $123 4lb.7oz.; 23 inches Jimmy E. Smith
3rd Place $82 4lb.7oz.; 23 inches Kevin Scanlon
The 4th thru 6th place winners receive $20 Gift Certificates from Pavinci's
4th Place 4lb.5oz. Mike Fagan
5th Place 4lb.4oz. John Fernandez
6th Place 4lb.3oz. Carl Platvoet
Thanks to all that entered and
Congratulations to the winners!