In Memory of Bill Clark
Dedication of the Fishing Education Pond in the Memory of William G. Clark,
long-time Knee Deep Club member and trustee,
was held on Saturday, July 14th, at 12:30 PM,
at the Morris County Park Commission's Fishing Education Pond
at Mahlen Dickerson Reservation, Weldon Road, Jefferson Township
(opposite the J.T. High School).
A Fishing Contest for the youngsters was held immediately after.
Bill Clark - long time KDC member, trustee, and advocate
William George Clark Lake Hopatcong Commission field operations director, 63 William George Clark of Lake Hopatcong died Saturday, Dec. 23, 2006, at Morris Hills Center, Morristown. He was 63. Visiting will be held on Thursday, Dec. 28, from 7 to 9 p.m. and Friday, Dec. 29, from 2 to 4 and 7 to 9 p.m. at The Leber-Lakeside Funeral Home, 150 Landing Rd., Landing (973-398-3000). Cremation and inurnment to be private and at the convenience of the family.
Born in Cleveland, Mr. Clark has lived in the Lake Hopatcong section of Jefferson Township for 20 years. A Marine Corps veteran from 1961 to 1965, he received the Good Conduct Medal 1st Award, Rifle Expert Badge and Pistol Marksman Badge. Mr. Clark was the director of field operations with the Lake Hopatcong Commission in Landing. Prior to that, he was a parts manager for several GM automotive dealerships.
An avid outdoorsman, he was also considered an outdoor activist, lobbying for protected waters, preservation education and sportsmans rights. He was a lifelong fisherman. In his later years, Mr. Clark enjoyed organizing fishing derbies for children. He was a member of Trout Unlimited, the Muskies Inc. and the Knee Deep Club of Lake Hopatcong. He was also a member of the New Jersey Federation of sportsmen and the New Jersey Rifle and Pistol Clubs, Inc. of Pompton Plains. He was also a certified rifle, pistol and shotgun instructor for the National Rifle Association.
Mr. Clark was the beloved husband of the late Romilda (nee Carifi) Clark, devoted father of Diane Grapentine and her husband, Mark, of Cream Ridge, Susan Struz of Lake Hopatcong, Janet Revels of Warwick, N.Y., and Karen Clark of New Providence, cherished son of Betty (nee Carey) Chevian and her husband, Michael, of Boca Raton, Fla., the loving grandfather of Stacey, David and Erin Grapentine and Amber, Alicia and Thomas Revels, and the dear brother of Gary Wagner of Bath, Pa., Robert Wagner of Pompano Beach, Fla., Richard Wagner of Kissimmee, Fla., and Craig Wagner of Pittsburgh, Calif. For those desiring, memorial donations in his memory may be made to the Knee Deep Club of Lake Hopatcong, P.O. Box 404, Lake Hopatcong, N.J. 07849.
Published in the Star-Ledger on 12/27/2006.
Bill was behind the camera more often than in front.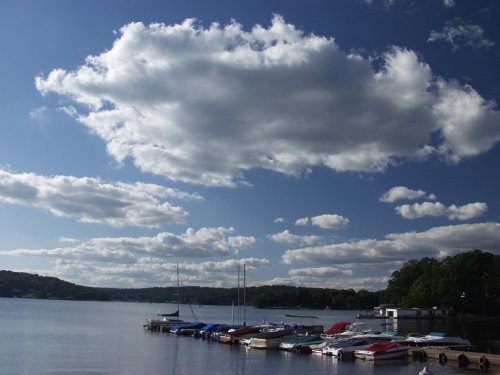 View from Lee's Park on 9/9/03 by Bill Clark.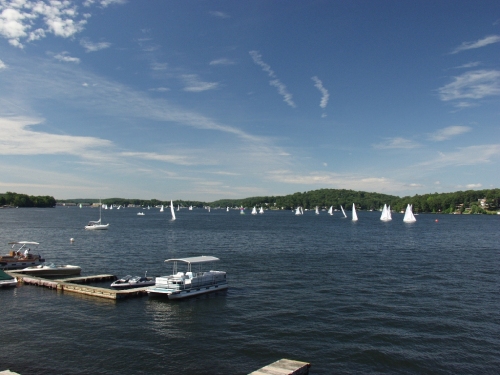 Bill Clark's view from the Jefferson House August 2003.
William Clark, advocate for Lake Hopatcong, dies at 63
Peers say he brought passion, dedication to work and cause
BY ROB JENNINGS DAILY RECORD Wednesday, December 27, 2006
William G. Clark of Jefferson, an influential advocate for Lake Hopatcong, died Saturday at age 63.
A distinguished outdoorsman, Clark was director of field operations for the Lake Hopatcong Commission. He oversaw weed harvesting and a myriad of other responsibilities at New Jersey's largest lake.
The job was a labor of love for Clark, a lifelong fisherman, who lobbied for preservation, protected waters, hunting and just about anything having to do with the outdoors.
"He brought passion back to the lake," said a longtime friend, Knee Deep Club director Tim Clancy of Jefferson.
Clark was a member of the Knee Deep Club, which successfully lobbied for the creation of the Lake Hopatcong Commission in 2001. He was hired not long after as field operations director.
Clark worked long hours on the job until falling ill several months ago, Clancy said.
"Anything he did, he did fantastic," Clancy said.
A native of Cleveland, Clark lived in the Lake Hopatcong section of Jefferson for 20 years. He served in the U.S. Marines from 1961 to 1965 and worked as a parts manager at several GM auto dealerships.
In addition to the Knee Deep Club, Clark was a member of Trout Unlimited, Muskies Inc., and the New Jersey Rifle and Pistol Clubs of Pompton Plains.