KDC S.H.I.P.
(Spawning Habitat Improvement Project)
In the continuing effort to improve the fisheries at Lake Hopatcong, the Knee Deep Club has implemented it's second phase of it's Spawning Habitat Improvement Project (SHIP). The first phase was the placement of catfish condos in the shallow flats making available numerous spawning sites for catfish in order to facilitate their natural reproduction.
The second phase of the project, implemented on April 15, 2000, was the placement of additional structure below the surface to provide shelter for other fish. As seen in the pictures below, the club once again dedicated their time and energy to improve future fishing for all.
Club members assemble the structures.
The final preparations are made.
The finished product is ready for the water.
A little humor added to the mix.
The use of a bucket loader made it a little easier.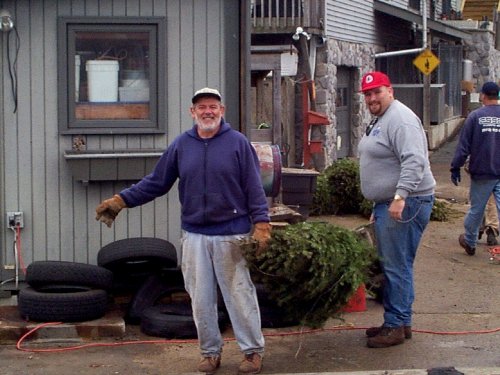 Lou Marcucci smiles for the camera (or out of fatigue).
The crew happy to lend a hand.
The crew hard at work.
Loaded and ready to go.
Boats were used to maneuver into position.
Once positioned they were let go to sink to the bottom and offer cover for all species of fish.
Phase III included another 80 trees and was completed in April 2001.